The Vision of PSM Industries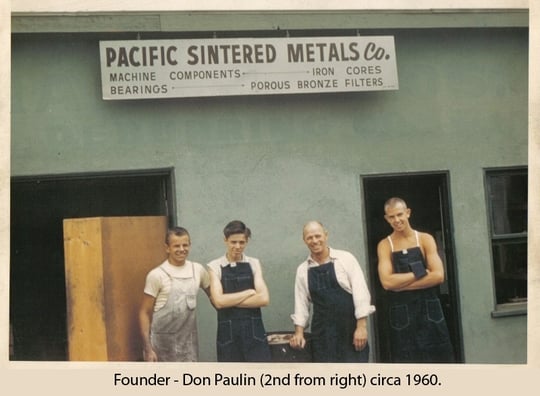 Since 1956, PSM has been a family business centered on one creative vision . . . to provide the widest range of solutions in parts fabrication through Powder Metal technology. Today, PSM's headquarters sit on a seven-acre campus in the heart of Los Angeles. From its humblebeginning, PSM took advantage of breakthrough technology in metal fabrication and helped develop the technology into the powerhouse process it represents today. Today, PSM manufactures a wide variety of precision-engineered P/M parts through its eight operating divisions.
PSM has become a world leader in design and engineering solutions for powdered metal fabrication. We have learned how to take advantage of every related technology, how to utilize a broad range of options to bring our customers the rarest of all commodities in production: peace-of-mind.
That's why smart engineers we've worked with over the years know that by bringing their challenges to PSM, their visions have a better chance of seeing daylight. They recognize that if anyone can find a solution, it's PSM.
The History of PSM Industries
| | |
| --- | --- |
| 1956 | Pacific Sintered Metals - Founded by Don Paullin to meet the needs of engineers on the West Coast for net shaped parts at an affordable cost |
| 1999 | Ferro-Tic Steel Bonded Carbides - Acquired to add fully dense, fine grained high wear materials to our product line |
| 2000 | PM Krupp High Speed Steels - Acquired to add the next step in PM Technology: Fully-Dense Liquid Phase sintered net shaped components |
| 2003 | PolyAlloys Injection Metals - Formed to meet our customers needs for more strength and higher part complexity with the metal injection molding process. |
| 2005 | BestMetal - Acquired to add a midwestern base that would allow us to expand our product line to include large parts, and short to medium run capabilities |
| 2007 | Yillik Carbide Products - Acquired to provide our customers with a wider range of carbide wear materials |
| 2012 | PM Engineered Solutions - Acquired to add PM Hot Forging and Plastic Overmolding of PM Inserts |
| 2014 | BestMetal divison acquires Wakefield Sintered Metals of Wakefield, MA to expand our short-run PM capability and customer base and merges it into our Woodstock, IL operation |
| 2015 | Yillik Precision Carbides division acquires Prebco Carbide Bushing of Montclair, CA to expand our precision carbide bearing business and merges it into our Ontario, CA operation |
| 2016 | PM Engineered Solutions separates into 2 divisions – PM Engineered Solutions which specializes in precision sintered metal and forged components and the Watertown Thermoset division. Both divisions will continue to operate from their Watertown, CT location |
| 2018 | PMES acquires W. M. Gulliksen Manufacturing and merges it into PMES' plastics operation. Founded in 1928, W. M. Gulliksen is one of the most established plastic molders on the east coast specializing in compression and transfer molding of thermoset materials. |