BestMetal - Powdered Metal Technology Solutions
Bestmetal CorporationBESTMETAL has been helping manufacturers remain competitive in today's global economy since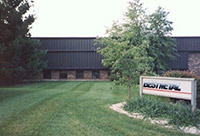 1989. We do this by providing at or near net shape parts using powdered metal (PM) technology. The PM process integrates high volume capabilities and low material costs with little or no secondary machining requirements. The lower production costs are passed on to our customers.
In addition, base metal powders are easily tailored to the mechanical properties you desire. Customers can choose from a variety of pre-alloyed powders as well as vary the composition and resulting properties with elemental additions.
Working in tonnage ranges from 20 - 500 tons, our parts are typically multi-level and require some secondary operations. We offer in-house machining, including drilling/tapping and turning (CNC machining centers), and in-house deburring, steam treatment and resin impregnation. Located in northern Illinois, we have quick access to toolmakers, machinists, heat treaters, platers and airports in Chicago, Rockford or Milwaukee. Give us the opportunity to quote your parts and compare.
Contact Us:
Bestmetal Corporation
925 Dieckman Street
Woodstock, IL 60098
Telephone: (815) 337-8800
Fax: (815) 337-8803